Do you want to get rid out of the driving stress? If your answer is yes then installing crossover in your car will be the right choice because crossover helps to improve the sound quality even on a low quality speaker.
A crossover produces great sound when its frequency is set correctly. So my question is do you know how to set crossover frequency? If you do not know then you do not have to feel ashamed because in this article cartoolsguide will show you how to set crossover frequency for car audio system along with some helpful information that are
How to set crossover frequency for speakers
What is frequency?
In Physics frequency is defined as the number of oscillations of a periodic wave that passes through a fixed point in unit time in periodic motion.
Formula of frequency – f=1/T , where T is the period of the sound wave.
What is a crossover frequency?
In a easiest word crossover is a frequency at which sound shift from one audio source to a various speaker. Here speaker is a passive agent and the crossover is a active agent because the sound is transferred by the crossover to a speaker. In a passive speaker the electronic crossover components judges the sound which is transferred from the speaker channels to a subwoofer.
How to set crossover frequency for car audio system 2022
At first, you must decide the frequency range of your car speaker. After that play some music with a dynamic frequency range. Then you must listen to the music while playing it. So that you can judge what frequency range produces the best sound.
Next you must set the crossover point around a 10 HZ or below the lowest frequency that your car speaker have the ability to produce without having any issue.
Again you have to hear the music and this time you have to turn up the sound slowly slowly until you hear it begin to distort. When the sound will reach the volume level where the distortion starts at that time you should lower the volume until you hear a clear sound and you must note the point where you hear the clear sound because it will help you to set the frequency perfectly.
After reaching a particular volume level from where disortion will start then you must turn the volume of your msic toeards the lower side until and unless the music gives you a clean sound and after that when you will play the music system try to note the receiver volume fixed at that particular point.
Now you must set the gain of your subwoofer AMP to its lowest possible value. From there you must switch the low pass filter on and set it as high when it will go.
After that you should start playing some music. Next you should wait for a smooth transition between speaker and subwoofer. In ideal matter you should not independently differentiate with the bass signal. It will sound like everything has been played in a unison.
While listening the music if you hear any bass bump then you must set a crossover frequency and you must try to adjust the volume control until and unless it matches the main speaker output. You must turn up the receiver volume to a maximum level for distortion-free position.
How to set crossover frequency for speakers
To set the crossover frequency for the speaker the first thing that you have to understand is the quality of your car speaker with which you are currently dealing with. Below we are going to discuss about How to set crossover frequency for speakers.
To get the speaker frequency response at first you should notice at your speakers specification. Either it will look like  "32-10,000Hz" or other number within that range.
Now you should go to the receiver's setup menu with a remote control so that you can find find the part of the menu which shows the size of your car speaker and crossover point. The way of finding this menu will not be the same in every speaker that's why you must use the your product manual.
While in the receiver's menu you must keep your eye at the specification's sheet of the speaker after that you should take the note of the lowest frequency. In maximum cases 2/3 way speaker has either 30. 40 or 55 Hz lowest frequency but in subwoofer the lowest frequency is 20HZ.
Keep your eyes open on the options that are available in your receiver's crossover adjustment menu. Now, multiply the lowest value on your speaker's specification sheet by two.
The high pass crossover point of your car speaker is the frequency at which your bookshelf speaker gives way to the speaker. The low pass crossover point is the range where the subwoofer will begin to taper off.
So its proved that a car speaker should have the lowest frequency range upto 40 HZ and have a roll of that around 32 HZ.
Best car audio crossover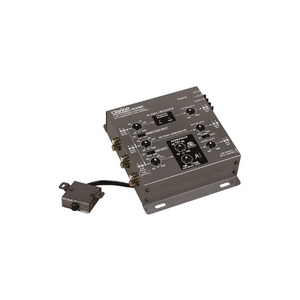 If you are thinking to have great sound from your car speaker then you must have the best car audio crossover for your car. No matter what is the condition of your car speaker because car audio crossover has the capability to create quality sound even from a poor quality speaker also.
There are three different things that will decide how a crossover is going to produce a result that is frequency, and the slope, high pass system, and low pass system. If you are a car driver by profession then you must know how to set these things because above we have mentioned about how to set crossover frequency for different car audio system. By watching that you should learn how to set crossover frequency mainly these three things that are high pass system, low pass system frequency, and the slope.
So if you want to enjoy music while you are travelling in a car then you must have a good quality car audio crossover for your car which will improve the sound quality of your car speaker.
Conclusion
If you have read the whole article with full of attention then I am sure that you have understood the whole process of how to set crossover frequency for car audio system. But if you have any doubt remain in your mind then you can feel free to ask me through below comment section.