I think it will be a huge benefit for you if you know how to check ball joints Silverado. Because if you can check ball joints then you can save huge damage to your Silverado car.
We all know that ball joints are a very important car accessory that you must have in your car. Ball joints help in controlling the arm and knuckle or spindle which will surely allow your wheels to turn and it will allow moving up and down when you are driving your car.
The ball joints part takes a lot of punishment some of the ball joints help in holding the total weight of your vehicle. Some little factors or design of the ball joints can be the reason for a ball joint to wear out prematurely and sometimes even fails. If your car ball joints fail then it may cause some serious and expensive car damage.
So if you have a Silverado vehicle in your house and you are observing the symptoms. Then it's really necessary to take some time and check ball joints Silverado. So that you can avoid bigger damage in your Silverado car.
How should you identify a bad ball joints
There are few things by noticing that you will realize that your Silverado car ball joints are going to fail. We are going to describe some points if you notice this type of problem in your Silverado car then you have to understand that your ball joints are going to worn out.
The first symbol of a bad ball joint is clunking, clicking, and metal grinding. If you notice clicking which takes place near the axle and when you will turn your Silverado vehicle at that time you can identify or observe the problem much more. If there is clicking and you can observe it more when you turn your Silverado then you are probably having a bad CV joint.
When you are driving the loosened stud during that moment you must move around inside the bearing quickly which may be the reason for vibration from the front suspension of your Silverado car.
As the ball joints help in controlling the arm to knuckle that's why it will reduce the responsiveness of Silverado steering.
How to Check Ball Joints Silverado 2021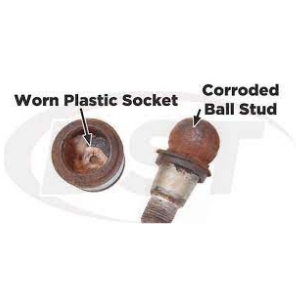 Tools with which you can check the ball joints Silverado
If you are suspecting that your Silverado ball joints have been damaged then you must use a jack, jack stand, 2×4, and a flat head screwdriver which will help you to check the quality of your ball joints. If your Silverado car ball joints have really got damaged then you can check it with your hands but if you notice the ball joints with your eyes then it will be best for you.
Perfect Placement Of Jack and Stand
You should be concerned while inspecting the Silverado car ball joints, you must place both jack and jack stand in a proper way. As a ball joint is bearing the weight that's is all reason t check your Silverado car ball joints when it's in a loaded condition. You can perform the task either by supporting the frame of the vehicle or the lower control arm and all these things are judged by what type of suspension you are having in your vehicle.
How to test ball joints
There are three different ways to test ball joints which we are going to tell you in few easy steps that are
Manual Test
To check the ball joints manually you must keep your Silverado car wheel horizontally which is 12 o clock and 6 clock position. At that time if you hear any clunking or grinding and if you notice excessive movement in a ball joint then the time has come to replace it.
Screwdriver Test
You can check the condition of your ball joint just with the help of a flat head screwdriver put it against the control arm or under the edge of a knuckle after that levering it up. if you notice that the ball joint is moving up and down during the time of levering then the stud is loose in the bearing.
Reason for the failure of ball Joint
If you are a car enthusiast and have a Silverado car in your home then I think you are serious about the failure of ball joints as it can make huge damage to your Silverado car. If you are hearing some curious noise and if you are not having enough time to get to the trouble of using a jack for your car right at this moment then you can check the points of a Silverado vehicle with the ball joints problem so that you might be concerned for your Silverado ball joints problem in your near future. You can track the problem of a ball joint just by following few root causes, If you are serious then you can have a solution after observing this ball joints problem.
The first cause of the failure of ball joints for Silverado is using the low-quality material in the inner bearing. Some of the OE ball joints use an OE plastic liner between the studs and bearings which is not so much durable compared to metal-made bearings.
The next reason for the failure of the ball joint is for the entering of both dirt and debris into the joint. If the dust boot is not properly seated then contaminates will very easily enter into the ball joints after that it will start damaging the ball joints of your Silverado car.
The last but not the list cause of ball joints failure is due to less lubrications. If you do not use grease then it will reduce the friction between the studs and bearing, the metal on the non-metal surface will start contacting to wear away at the smooth surfaces, and then it will be the reason for seizing.
Solution of a Silverado ball joints failure
The dust boot must be set lower and more snugly, as it will have less reason to torn compared to the conventional types of the dust boot.
You must use grease on a constant basis to every single part of a bearing and stud. And always have metal made bearing
If you properly grease the whole ball joints then you can maintain the ball joints very easily and it has the ability to flush out any debris.
Conclusion
So those who are using Silverado cars must know how to check ball joints Silverado. Otherwise, it may cause expensive damage to your car. If you read this guide carefully then you will know how to check ball joints Silverado.